Samsung, one of the trusted brand name in digital camera industry, is now having an exciting online promo! Bad photos are now a thing of the past specially if you can win the Samsung's latest ST700 2View Camera.
Samsung's 2View Camera Series offers a wide array of features that most digital camera users love.
Features such as "Child mode", "Jump Shot" and "Self/Couple Shot" are present on the 2View Camera Series.
You can now perfect self-portrait shots or join your friends and family in the shot with the "Self/Couple Shot" feature. The "Child mode" feature can capture a child's attention in order to snap the perfect picture while the "Jump Shot" feature enable its users to perfect a group Jump shot.
Particularly, the Samsung ST700 has this 'Smart touch 3.0 feature' that let its users to drag, click and control 'app-style' icons. Another feature that I am personally looking forward to in this Samsung ST700 2view camera is its high-definition movie recording that will let me record HD clips in 720p resolution at 30 frames per second.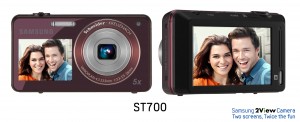 Best part of this is that you can actually win the Samsung ST700 2View Camera by following these simple steps:
Become a Fan of Samsung 2View Camera PH Fan Page by clicking here or by clicking the image below: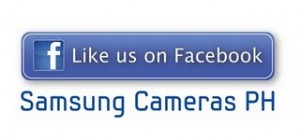 Upload a bad photo you want to say goodbye to, based on these categories:
Wrong Angle
Jump Shot Fail
Baby Gets Bored
Invite at least 5 of your friends to become a fan of Samsung 2View Camera PH and tell them to vote for your photo by liking them.
Mechanics of the contest are as follows:
1. Promo duration is from May 31, 2011 to July 31, 2011.
2. All entries will be judged if they do not violate the promo guidelines.
Panel of judges is composed of the following:
Samsung Brand Representatives
2 Agency Representatives
1 Celebrity Guest Judge
3. Winning photos will be chosen based on how much you need a new Samsung
2View Camera based on the following criteria:
40% – number of Likes
30% – how funny the photo entry is
30% – over-all impact and X-factor
4. Get a chance to win either one (1) of three (3) Samsung 2View Cameras.
5. Promo is open to all Filipinos aged 18 years old and above. Must be residing in the Philippines.
6. All employees of Samsung Electronics Philippines Corporation, their agencies, third party dealers and suppliers' employees, and their relatives up to second degree of consanguinity or affinity are disqualified from joining the contest.
You can also visit the 'Bye Bye Photo Facebook Application' for more of the contest mechanics.
My photo entry to the Samsung 'Bye Bye Bad Photo' Contest was only one of the many failed-self-portrait shots that me and wifey had. Old digital cameras doesn't have such dual camera that Samsung 2view camera has so a lot of us surely had this same photo taken using the old gen digital cameras.
Do you have the same picture taken? Share your story with us on the comment section below and be sure to join the Samsung 'Bye Bye Bad Photo' Contest