Having a reliable internet connection at home is similar to having a stable electricity and water supply. That is how important internet connection for us, especially for my wife, who is a full time blogger, as I am now a part-time blogger because I have a job. As most of you already know, being a blogger means being online most of the time, if not 24/7, and this kind of "career", must be accompanied by a stable and reliable internet connection.
Losing a connection for even just a few minutes may mean losing an "income"; however small the loss is, still the fact remains that we have lost something, not to mention the clients that we may lose during those "dark moments", where internet connection is lost. As for me, aside from being a part-time blogger, since I have an "offline" job, whenever I'm home, I spend most of my time playing online games because it has been my hobby since I was a child. At the same time, I also love to listen to music via online radio, thus online streaming is just normal for my daily routine.
But come to think of it, subscribing to monthly internet connection may sometimes seem to be a hassle, especially when the bundle we subscribe to does not meet our required data usage consumption, and if we try to avail for higher Mbps rate, the fee is not that reasonable. Since this is the case, when I heard about the Sky Broadband's latest addition to their internet plan, I grabbed the calculator and computed for our average monthly data usage and found out that we consume around 5GB to 7GB a month.
Then I checked for the Sky Broadband's various plans that will perfectly fit our data usage monthly and decided that we can avail of Sky Broadband's Plan 15GB. Because this plan offers a download speed of up to 5Mbps and an upload speed of up to 1Mbps (for only P999/mo), I guess this speed will let me enjoy hours of playing Call of Duty online!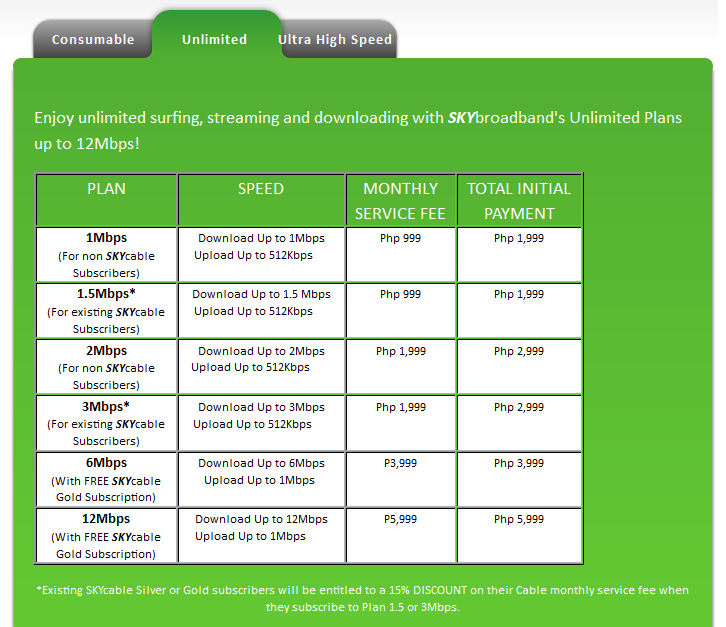 I also learned that if I got the 1.5Mbps* Unlimited Plan (which is Php 999/month), I can avail the Sky Broadband new add-on offer called the "Consumable 15GB 5mbps with 1.5 Unlimited Plan." This offer will allow me to add only Php200 then I can enjoy speeds up to 5Mbps. I think this is a great deal, for Php 1,199 I can enjoy the speeds of 5mbps. The catch is that this is good only for 15GB (consumable), once the 15GB data has been reached, the plan will be back to the original speed of 1.5Mbps, which is unlimited.
As you may know, I'm really an online game addict and I spend a couple of hours in front of my computer. Of course, I have to have an online connection during those times because for me, having a desktop without an online connection is useless. I mean, c'mon, I'm not an executive; therefore I don't use my computer for hours just to make presentations or other office-related works. My computer is mainly for my online activities.
As I have mentioned, aside from being a part-time blogger, which of course requires me to have a steady online connection, I'm an online game enthusiast. For those who spend their "lives" online playing Call of Duty and other similar games, I bet you know the value of having a steady connection right? You know the feeling of being beaten by the opponent not because you're too lame, but simply because you have a slow connection, which causes game lag, or worst, your internet connection is unstable. Thinking of these scenarios make me feel "pissed off". Aside from playing online games, did I mention that I'm a "patron" of Sirius Satellite Radio? This is where I listen to streaming music from about a hundred of music channels. Because nobody wants to listen to a "pirated-like" playing music, it is really a good thing to have a steady and reliable internet connection. Ah, the comfort of online life.
These are the reasons why when I will be given the budget, I guess I will avail the Sky Broadband Plan 15GB, which has a download speed of up to 10Mbps! Perfect for my online games, not to mention that the price difference is only P300 – Plan 35GB is only P1,299/month. For those who require higher data consumption and faster internet speed, Plan 35GB is likewise available. Sky Broadband is really committed to being the country's fastest internet connection that is perfect for every lifestyle because of its "fastest per peso" offer that can give me and my wife the internet connection freedom we truly deserve!
I have already read from their page that Sky Broadband is offering a free 15-Day* trial, where customers can try their Plan 15GB. With this Plan, a 15GB data usage allowance can be used and your connection will just be automatically disconnected when you reach the 15GB data limit or on before the 15th day, whichever comes first. Also, I'm planning to avail of the free trial, since there's no need to disconnect my current internet service provider. And what I love about their trial is that, there are no hidden charges and there's no strings attached!
If you are also interested too, you may get your 15-Day* free trial when you apply now. SKY Cable subscribers in good credit standing and even Non-SKY Cable subscribers are qualified to avail this offer. Visit the SKY Broadband website or you may call the SKY Broadband team today and have them install it to feel the difference.
*Cable modem refundable deposit of P1,000 will be charged to SKY Cable subscribers with less than 3 months tenure and to non-SKYcable subscribers